Investing in Manchester Property?
Investing in Manchester, the unofficial focal point of the UK government's Northern Powerhouse flagship economic stimulus programme is currently one of the UK's property investment hotspots.
"Only two cities in the UK are growing in all directions: London and Manchester" – David Thame, freelance property writer as quoted in the Financial Times.
While Manchester-proper is, with a population of circa. 530,000, only the UK's 7th largest city officially, it competes with Birmingham in the public consciousness for the title of the country's second city. Manchester's status as punching above its weight as an urban and economic focal point of the north has much to do with the fact that Greater Manchester, a 10-borough urban sprawl that includes Bolton, Bury, Oldham, Rochdale, Stockport, Tameside, Trafford, Wigan and Salford (which also has city status) boasts a combined population of circa. 2.8 million. This makes it the largest urban area in the country outside of Greater London.
House price growth rates that have recently been higher than those in London and the South-East, combined with far superior rental returns, have pushed the major northern cities into focus as property investment destinations. Manchester, and Greater Manchester, as host to many of the region's higher profile commercial and economic hubs, such as the BBC's new MediaCityUK home and the Trafford Centre, and more affluent residential areas, is proving to be of particular interest to private investors investing in Manchester.
Manchester Demographics
Manchester city's 530,000 population and the 2.8 million population of Greater Manchester are headline figures that fail to do justice to the underlying statistics that demonstrate the region's impressive demographic trends. The area has the highest population growth outside of London and between 2013 and 2014 the city added almost 6000 residents. The city's population surged by almost 20% between 2001 and 2011, from 423,000 to 503,000, and over the five years to 2015 another 30,000 residents flocked to Manchester. Demographics data in 2016 is due to be released shortly and is forecast to demonstrate a continuation of this trend. Half of Greater Manchester's recent population growth has been accounted for by Manchester city itself.
38.4% of Manchester's residents are under the age of 24 and the city's average age is, at 33.1 in 2016, the youngest outside of London. The city also plays host to a student population of 99,000, attending Greater Manchester's four universities. There are a total of 22 universities within an hour's drive of the region. Greater Manchester's universities churn out 33,000 graduates every year. While less than half of the region's student population comes from Greater Manchester 7 out of 10 graduates remain in the area, a testament to its booming economy and wider appeal as a place the young and educated are increasingly choosing to live.
Forecasts for population growth between now and 2025 conflict, with the Office for National Statistics (ONS) estimating the city's population will reach somewhere around 550,000 and Manchester town hall analysts saying 625,000 – a huge 20% leap within one decade. With most recent estimates already saying 530,000, the ONS estimate looks highly conservative. The council's town hall analysts track trends using more localized data sources such as student numbers and expected immigration, while ONS forecasts use birth and death data and migration figures that come from GPs and universities, to estimate populations. Townhall forecasts indicate the city centre and Cheetham will be the most densely populated areas of Manchester by 2025.
Manchester Economy
If Manchester's population growth and trajectory are impressive, those of its economy are even more so. In the past 20 years, the city's economy has almost doubled in size with 6.6% average annual growth compared to a UK-wide 5.1%. By December, Greater Manchester's economy is expected to have grown by a further £600 million over the course of 2017. The overall size of the region's economy is expected to hit £58.9bn. 22,258 new jobs are expected to have been created over the year and a half since the Brexit vote and the end of 2017.
There are over 2000 foreign-owned companies in the Greater Manchester area, demonstrating the strength of the region as an attraction for direct foreign investment. Business, finance & professional services, manufacturing, health, innovation and creative, digital and technology are the region's industry strengths and the 2015 Oxford Economics report Beyond the City has forecast that jobs creation in Manchester could outstrip cities such as Tokyo, Paris and Berlin over the 5 years between 2015 and 2020.
Manchester's median weekly wage for residents, those who actually live in the city, was £385 in 2016. The city's average median weekly workplace wage was £479, demonstrating that many of those in higher paid positions are still commuting into the city. The 25% difference between resident and workplace wages increased by 3% between 2015 and 2016, which would indicate that new jobs being created at the higher end of the pay scale are being filled from outside of the city. The average median weekly wage in England is £430, putting the resident Manchester wage significantly below the average and the workplace Manchester wage significantly above. The unemployment rate for the North West, of which a large part is formed by the Greater Manchester area was 4.3% of March to May 2017, against a national UK average of 4.5%.
Infrastructure investment in transport links and regeneration projects, such as Manchester city centre and the former industrial zone Manchester and Salford Quays, has been one of the main drivers of Manchester's economic resurgence. The UK government's Northern Powerhouse economic stimulus initiative for investing in Manchester, aimed at creating an economic zone around Manchester and Liverpool to rival Greater London also holds the prospect of investment in the region increasing.
One major economic challenge Greater Manchester does face is the fact that the gap between rich and poor areas in Greater Manchester is widening. In 2015, the city of Manchester itself generated £31,000 of economic growth per person, twice as much as in Tameside, Rochdale and Oldham. In Rochdale, incomes dropped in 2015. Over the past decade, more than 27,000 jobs have been created in the south of the Greater Manchester conurbation with just 2,400 in the north.
The Residential Property Market
As might be expected for a region with one of the fastest growing populations and economies in the UK, Manchester's residential property market is also in rude health. According to Rightmove data, as of July 2017, the average house price in Manchester was £181,707, up 11% year-on-year and now 19% higher than the height of the market in 2007 before the financial crash. The average price in Manchester City Centre was £203,013. Despite strong growth, Manchester house prices still lag the national average of £220,000, though it should be noted that average is heavily influenced by prices in London and the South-East.
Over the past couple of years, house prices in Manchester have been rising at a faster tilt than those in London and are currently on the steepest upward trajectory of any city in the UK. Another set of data from Hometrack puts the average Manchester property price at £153,600 and annual price growth at 8.8%. Hometrack's data considers a more extended urban area, including parts of Greater Manchester as 'Manchester', hence the divergence from Rightmove's stats. Both sources place Manchester as the region that has seen the steepest growth rate in house prices in the UK over the past year. London showed a 4.9% house price growth.
Manchester is also in 2nd spot, behind only Liverpool, in-house sales numbers growth according to Hometrack.
Using data from Zoopla, P2P lending platform Lendinvest's Buy to Let index places Manchester as the most profitable city in the UK to be a landlord on rental return with average rental yields of 6.11%. Rents are also up 7.53% year-on-year capital gains 7.58%.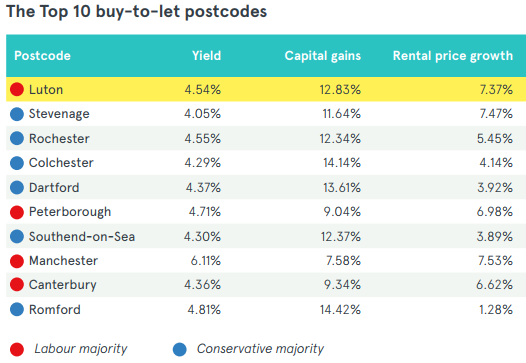 Source: Lendinvest, Buy-to-Let Index June '17
A research report by consultants JLL (Jones Lang Lasalle) also paints a positive picture for investing in Manchester property over the next several years. The report released in early 2017 forecasts the supply and demand imbalance in new housing to result in house price growth of 28.2% over the next five years, with rental prices also projected to rise by 20.5% over the same period.
Now could not be a better time for investing in Manchester property. The figures speak for themselves. Contact us today to find out what developments we have available in this thriving city.